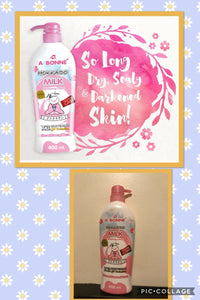 A Bonne Hokkaido Milk Nanowhite Gluta Whitening Lotion 400ml
A BONNE 
Hokkaido Milk Nanowhite Gluta Whitening Lotion  
400ml
NOTE THAT THE BOTTLE THAT THE MANUFACRUER USES, IS THE SAME SIZE AS THEIR 500ML BOTTLE, INSTEAD THE MANUFACTER FILLS IT WITH ONLY 400ML LOTION, THIS MEANS THE BOTTLE HAS SPACE INSIDE.
CHECK THE SIDE COMPARISIM OF THE BOTTLES
A Bonne Hokkaido Milk Nanowhite Gluta Whitening Lotion
 is a rich and smooth lotion, formulated with Milk Extract from Hokkaido 
and Glutathione Nanowhite to soften and brighten your skin in 14 days.
* Hokkaido Milk Whitening Lotion *
- Glutathione Nano White. including Glutathione, Natural Arbutin, and Vitamin C, 
is triple activities for skin brightening.
- Hokkaido Milk, enriched triple proteins, improves dry skin's condition. 
It provides intense moisture, boosts skin's hydration and gets the beautifully radiant skin.
- Vitamin C, Vitamin E are excellent antioxidants, 
which are added to renew and nourish your skin
Direction : 
Apply A Bonne Whitening Lotion all over the body. 
Skin will become radiant and its tone will
be naturally lightend after daily use .
** 3x Whitening & UV Protection **
++ Skin look Whitening in 14 Day ++