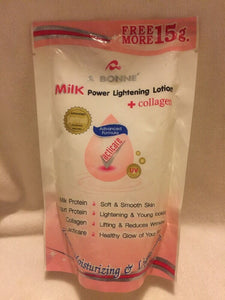 A BONNE Milk Power Lightening Lotion with Collagen 250ml
A BONNE MILK POWER LIGHTENING LOTION 
+ COLLAGEN 250ml   
 ADVANCE FORMULA ACTICARE with UV PROTECTION DOUBLE 
MOISTURIZING & LIGHTENING              
by: Superbrands
A BONNE Milk Power Lightening Lotion


This concentrate milk lotion protects your skin from UV rays and gives it
a healthy glow. It is light, non-greasy and easily absorbed into the skin.
It is specially formulated with Lacticare Milk Power and Collagen which are gentle to delicate skin.
It deeply moisturizes, eliminates skin dryness and restores lasting radiance.
Special skin nutrients will stimulate skin cells, giving you a bright and restoring elasticity and firmness.
Yogurt Protein & Milk Protein: double its effectiveness in giving you a younger look
with bright, soft and smooth skin.
Collagen: This pure natural protein improves skin firmness,
reduces wrinkles and enhances skin elasticity.


DIRECTIONS: Apply A BONNE Milk Lotion all over the body.
Skin will become radiant and its tone will be naturally lightened after daily use.
ACTIVE INGREDIENTS:
Milk Protein, Stearic Acid, Lacticare, Yogurt Protein, Mineral Oil,
Collagen, Titanium Dioxide, Ceteareth 60, Stearyl Alcohol,
Isopropylmyristate, Cerasynth IP, Propylparaben, Methyiparaben,
Carbomer 940, Glycerin, Triethanolamine,
Fragrance and Deionised water.
PRODUCT OF THAILAND