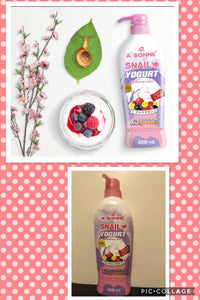 A BONNE Snail Yogurt Whitening Body Lotion Nanowhite Gluta 400ml
A BONNE 
Snail Yogurt Whitening Body Lotion 
400ml
NOTE THAT THE BOTTLE THAT THE MANUFACRUER USES, IS THE SAME SIZE AS THEIR 500ML BOTTLE, INSTEAD THE MANUFACTER FILLS IT WITH ONLY 400ML LOTION, THIS MEANS THE BOTTLE HAS SPACE INSIDE.
CHECK THE SIDE COMPARISIM OF THE BOTTLES
A Bonne Snail Yogurt Whitening Body Lotion is a thick and nourishing lotion, 
formulated with Nano White Glutathione, Yogurt Extract, Milk Protein and
Snail Secretion filtrate to smoothen and brighten your skin in 14 days. 
Direction : 
Apply A Bonne Whitening Lotion all over the body.
Skin will become radiant and its tone will be naturally lightened after daily use. 
** 3x Whitening & UV Protection ** 
++ Skin look Whitening in 14 Day ++