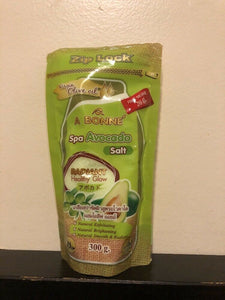 A BONNE Spa Avocado Salt Body Scrub Whitening Exfoliating 300g
Description :     
     Spa avocado salt is the micronized salt with Milk Protein, Avocado Extract and Virgin Olive oil, It is used to scrub the body to remove grime, sweat and pollutants without causing irritation and most especially the death skin cells which will reveal, bright, smooth and younger-looking skin right after use.
Milk protein : Helps skin in Reretaining moisture content, prevents it from dryness and roughness, giving your skin a long lasting radiance. 
Avocado Extract  :  Contains high Vitamin E reduces skin itching and its inflammation. It softens rough skin.
Virgin Olive Oil  :  Is Rich in antioxidants helps repair skin damage from the sun exposure and gets rid of the pollutants. As a natural moisturizer, Olive oil softens the skin and cures its inflammation.
Features  :
Spa Avocado Salt ,Radiant, Healthy Glow.
After use you can feel your skin's smooth & radiant.
Enriched Vitamin E.
Direction :            
     Apply spa milk salt on wet skin. Rub gently by hand in circular motions. Leave it on for 3 minutes, then rinse off with clean water. You can feel your skin's softness and smoothness right after use.         
Ingredient :
     Sodium Chloride, Paraffinum Liquidum, Glycerin, Fragrance, Cocamidopropyl Betaine, Cl77288, Hydrolyzed Milk Protein, Avocado Extract, Virgin Olive Oil.
Caution  :
     For external use only. 
Condition     :    New
Quantity       :   1 Pc.
Weight         :   300g.