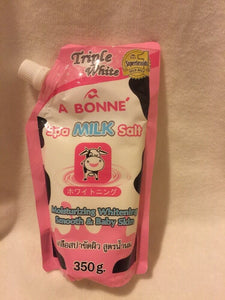 A BONNE' Spa Milk Salt Triple White
A BONNE' Spa Milk Salt Whitening Smooth Baby Skin Exfoliating Smooth
A Bonne Spa milk Salt is a skin whitening, enriched Vitamin E, Pure Milk and natural salt benefits. It provides nourishment to your skin with pure milk Derma White. It removes dirt deposit and dead skin cells from your body, giving you a new and radiant skin
Note that you might get any of the 2 packaging available .
Description : A Bonne' SPA MILK SALT- SKIN WHITENING VITAMIN E PURE MILK
Condition : Brand new, sealed, never open
NOT THAT THE COMPANY RUNS PROMOTION ON THE SIZE AND DESIGN OF PACKAGING, MAKING IT REGULAR SIZE OF 300G OR PROMO PACK OF 350G
Quantity : 1 item
How to use : Gently pour the soap onto hands, wet it and rub gently in a circular motion on the areas where it needs exfoliating.
Ingredients : Sodium Chloride, Bentonite, Dermawhite, Kaolin, Allantoin, Hydrolysed Milk Protein, CMC Carboxy Methyl Hydroxy Ethylcellulose, Cornstarch.