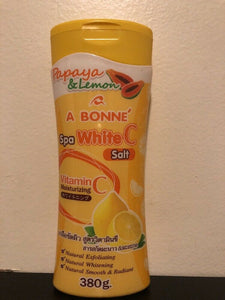 A Bonne Spa White C Salt. Papaya & Lemon Salt 380g
A Bonne PAPAYA & LEMON Spa WHITE C Vitamin C Salt  Moisturizing Bath Salt  380g bottle
Packaged for Easy Use Design for pouring, opening, and closing.
Fine grained spa salt enriched with milk protein is an all in one skin treatment. Without causing irritation, it gently removes grime sweat and pollutants from skin pores which cause body odor, and reveals white smooth and younger looking skin. Scrubbing will improve blood circulation, giving your skin a healthy glow right after use.
A Bonne Spa milk Salt is a skin whitening, enriched Vitamin E, Pure Milk and natural salt benefits. It provides nourishment to your skin with pure milk Derma White. It removes dirt deposit and dead skin cells from your body, giving you a new and radiant skin
Milk Protein : Helps skin to retain moisture, prevent dryness and roughness, giving your skin more radiant look.
Lemon & Papaya Extract : Extract lighten skin tone, giving it a fairer and more radiant look.