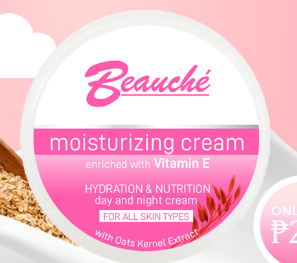 Beauche Moisturizing Cream
Plumper, Firmer Skin

Get glass-skin effect instantly

Kutis Koreana Skin
Use Beauche Moisturizing Cream everyday (Day and Night) for a healthy, moisturize and glowing skin.
 It can also be apply not only on your face but also on dry and rough spots of your body like, arms and elbows.


Infused with

 Vitamin E

, your skin's own battalion which defend your skin with day in and day out pollution, stress and smoke just to name a few and

 oats kernel extract 

(Avena Sativa) which soothes your dry, sensitive and irritated skin.

To use
Morning - Apply before your sunblock.
Night - Apply your facial treatment first before your moisturizer.