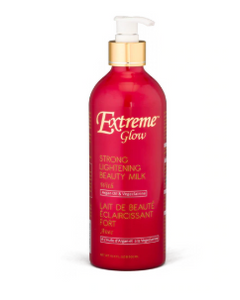 Extreme Glow Strong Lightening Beauty Milk
With Argan Oil & Valerian Extract  - Skin lightening Milk
Extreme Glow Lightening Beauty Milk contains a nourishing blend of Argan oil and Vegeclairine, to soften and revitalize the skin while delivering powerful lightening results.
Ingredients
Aqua (Water), Glyceryl Stearate, Isopropyl Myristate, Glycerin, PEG - 100 Stearate, Glycerin, BetulaAlba, Citrus Limonum, Dimethicone, Lanolin Oil, Decyl Oleate, Propylene Glycole, Glycyrrhiza Glabra, Sambucus Nigra, Rubus Fructicosud, Tilia Vulgaris, Paraffinum, Parfum (Fragrance), Sodium Lactate, Argan Oil, Octyl Dimethyl PABA, Carbomer, Allantoin, Vegeclairine, Ascorbic Acid, Triethanolamine, Sodium lauryl Sulfate, Sodium Metabisulfite, Disodium EDTA, Methylparaben, Proylparaben, p-Chloro-m (Cresol). 
Net Weight:
16.8 fl. oz. / 500 ml
How to Use:
Apply Extreme Glow Strong Lightening Beauty Milk evenly onto your body, once or twice a day.

 

For use on the body only!!!
Skin Type:
Ideal for normal to dry skin. 
Caution:
Avoid contact with eyes and lips. If irritation occurs, discontinue use. Do not use on children under 12 years old. For external use only. Keep in a cool and dry place. For use on the body only!!!