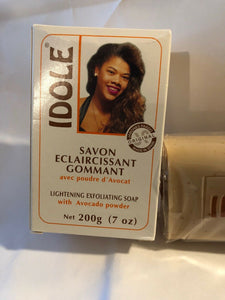 IDOLE Skin Lightening Exfoliating Soap w/ Avocado Jabon Exfoliante Aguacate 7oz
Idole Lightening Exfoliating soap contains avocado seed powder to accelerate the elimination of dead cells and to combat pigmentary blemishes. Not only does it deep cleanse the epidermis, but also lightens your complexion and leaves your skin smooth, even and radiant. It may be used daily, preferably before applying Idole Intense Lightening Cream with Avocado Oil.
El jabón aclarante exfoliante de Idole contiene semilla de aguacate molida para acelerar la eliminación de las células muertas y combatir las manchas de pigmentación. Al mismo tiempo que limpia profundamente la epidermis, aclara la tez y deja la piel suave, uniforme y luminosa. Puede ser utilizado diariamente, preferentemente antes de aplicar la Crema Aclarante de Idole.
Le Savon Eclaircissant Gommant Idole contient des noyaux d'avocat moulus pour accélérer l'élimination des cellules mortes et pour lutter contre les taches pigmentaires. Tout en nettoyant en profondeur l'épiderme, ce savon éclaircit votre teint et laisse la peau lisse, unie et lumineuse. Utiliser tous les jours de préférence avant l'application des soins éclaircissants Idole.
Each bar weighs 7 oz. (200 g). Please see images for additional product information and details.
I am a USA Sellers and direct importer of popular International Beauty products.