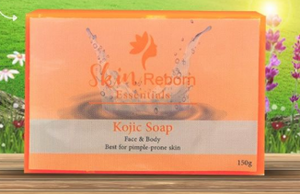 Skin Reborn Kojic Soap
Skin Reborn Kojic Soap helps lighten and dried out pimples with continuous use. 
How to Use Skin Reborn Kojic Soap

For your face:
1. Wet the soap with lukewarm water. Work into a lather.
2. Massage the lather on your neck and face, avoiding eyes and mouth. Wash your face for 30 seconds.
3. Rinse face and hands with cold water.
4. Pat face dry with a towel.
For your body:
1. Rinse the body with water.
2. Work the soap into a lather.
3. Massage soap all over the body, then let it sit for 1-2 minutes.
4. Rinse body thoroughly with lukewarm water.
5. Pat body dry with a towel.

Note: Pay attention to how your skin feels with the soap. Tingling sensations are normal, since the acid is working to lighten your skin. You can leave the soap lather on for 1-2 minutes, but if you feel any burning, rinse the product off immediately.